Data Privacy and Protection
EU GDPR + SG PDPA + CHINA PIPL
IAPP courses at Temasek Polytechnic (include IAPP exam voucher worths US$550)
Only S$381.15 with up to 90% SSG funding. SkillsFuture credit approved and PSEA eligible.
CIPM – Certified Information Privacy Manager
CIPP/E – Certified Information Privacy Professional  – Europe
CIPT – Certified Information Privacy Technologist
Scroll below for schedule and more details
The NEW Practitioner Certificate in PDPA Course
This course should re-start in March once PDPC gives the green light.
Stay tune for latest update.
Or contact us at enquiry@youngtech.sg
We only do data protection. Because we are good at it.
IAPP Certification Courses at Temasek Polytechnic
There are only 2 IAPP Official Training Partners (OTP) in Singapore.
We partner with Temasek Polytechnic to leverage on their strength in higher education.
Temasek Poly is the best place to attend the IAPP CIPM, CIPP/E and CIPT courses. 
Not only is the fee very reasonable (almost half of the competitor's!), its courses are SSG approved funding, Skillsfuture credits applicable and PSEA eligible.
Besides a good price, you get more: actual case studies, supplementary reading materials, MCQ assessment from our proprietary questions bank, study group support, so on.
See comparison table below.
The following IAPP Courses are offered:
CIPM – Certified Information Privacy Manager. Click HERE to register for CIPM
CIPP/E – Certified Information Privacy Professional / Europe. Click HERE to register for CIPP/E
CIPT – Certified Information Privacy Technologist. (Registration opens soon)
Fees is only S$381.15 (after up to 90% SSG funding).
SkillsFuture credits approved
PSEA eligible
IAPP official materials: exam voucher; 1-year IAPP membership (for non-member only); eBook; participants guide and presentation materials; sample exam questions
Supplementary materials: MCQ mock test (our proprietary questions bank); supplementary reading materials; supplementary training materials with actual data breach case studies; study group support
Certified Information Privacy Manager (CIPM)
Operationalising Privacy – Turning Policies into Programs
CIPM is the "must have" credential for DPO and Group DPO
Learn to implement data protection in day-to-day operations, create a company vision, structure a data protection team, develop and implement system frameworks, communicate to stakeholders, measure performance and more.
Target Audience: DPO, DP executives, senior management, department managers, audit, compliance, risk manager, IT executives
Domain (I) Privacy Program Governance
Domain (II) Privacy Program Framework
Domain (III) Privacy Program Operational Life Cycle: Assessment  
Domain (IV) Privacy Program Operational Life Cycle: Protect 
Domain (V) Privacy Program Operational Life Cycle: Sustain  
Domain (VI) Privacy Program Operational Life Cycle: Respond

Certified Information Privacy Professional - Europe (CIPP/E)
A strong foundation in GDPR
GDPR is relevant to you if your company does business with EU businesses or serves EU customers. It is a widely sought after credentials for DPO in MNC and regional companies. GDPR is also a "gold standard" in harmonising a data protection compliance framework if your organisation operates in several countries with different data protection legislations. 
Target Audience: Regional DPO, DPO, legal officer, compliance manager, risk management, auditor
1) Introduction to European Data Protection
2) European Regulatory Institutions
3) Legislative Framework
4) Compliance with European Data Protection Law and Regulation
5) International Data Transfers
Certified Information Privacy Technologist (CIPT)
Gain essential Privacy-by-Design Advantage
What if you can choose among COVID-19 contact tracing solutions? Which one gives you better control over your privacy? What was the commotion on Whatsapp vs Telegram vs Signal all about? How to select / build / manage privacy-intrusive systems: AI, facial recognition, big data analytic, and so on. This is the course for you.
Target Audience: Software designer, app developer, product manager, system analyst, technology students, compliance, risk manager, Technology lawyer
1) Privacy risk models and frameworks
2) Privacy responsibilities for technologist
3) Value-sensitive design
4) Privacy for Internet of Things.
5) Software security
6) Data-oriented strategies
7) Process-oriented strategies
8) Privacy engineering objectives
9) Privacy design patterns
10) Privacy risks in software
11) Privacy by Design (PbD) process
12) Mobile social computing
Good News for non-Singaporeans
(who are not eligible for Government Subsidies)
Some of you, being put off by the hefty course fee our competitor charges, may be considering Do-It-Yourself (DIY) IAPP certification. 
I have good news for you! 
To help build a strong DPO community, we are promoting IAPP certifications in this region by offering IAPP courses on a cost-recovery basis.
For as little as US$115 more, you get a whole lot more than study on your own. And if you do your second certification with us, we will give you a further discount.
See the comparison table below.
Contact us for course schedule at  enquiry@youngtech.sg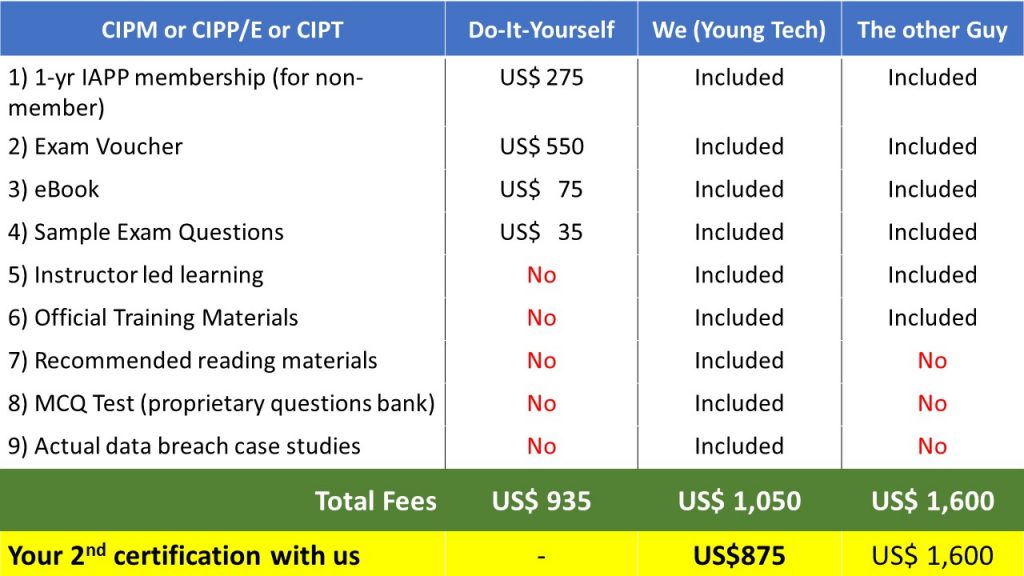 Text Book for you at 40% discount - If you really want to DIY
Official textbook for the CIPM program
Privacy Program Management, 2nd Edition
Executive Editor: Russell Densmore, CIPP/E, CIPP/US, CIPM, CIPT, FIP
Normal Price (order from iapp website): US$ 75 + USD$20 shipping (equivalent to S$100 + S$27 shipping)
We have limited copies available for sale at 40% off: US$55 or S$75 (include shipping)
Contact us at: enquiry@youngtech.sg
DPO as-a-Service
Outsource your PDPA compliance headache to a professional
PDPA Training and Awareness Workshop
 1) Essential to have a common baseline understanding of PDPA for management team
2) Quickly create awareness – reduce risks and mistakes
Assess Compliance Gaps and Identify Risks
1) Register DPO contact details with ACRA
2) Identify compliance gaps and risks
3) Develop Data Protection Policy
Prioritize risks and implement controls
1) Prioritize risk areas and implement controls
2) Establish and develop a data breach management process
Monitor Processes and Sustain Compliance
1) Establish reporting structure on data protection matters
2) Establish monitoring and reporting process on data protection practices
We only do Data Protection. Because we are good at it
GDPR and PDPA Consultancy
GDPR compliance assessment
DPTM (Data Protection Trust Mark) Preparation
DPMP (Data Protection Management Program)
Outsourced DPO function
Regional DPO function
"How to work with your DPO" program
PbD – Privacy by Design
IAPP Certification Courses: CIPM, CIPP, CIPT
Customised Workshop by Industries
eLearning and Assessment
Consent Registry; Data Inventory Map
Dashboard for DP compliance monitoring
Data Breach Prevention – Predictive AI
We help companies to protect their precious assets: REPUTATION and DATA.
We specialize in personal data privacy protection services.
Our team comprises experienced professional coming Information Technology, Operations, management consultant, compliance, risk management and Training.
We offer consultancy and training on data privacy regulations – such as European Union's General Data Protection Regulations (GDPR), Singapore's Personal Data Privacy Acts (PDPA), and China's Personal Information Security Specification (PISS).
We help businesses to implement a cost-effective data protection management system. Our unique approach emphasizes on integrating data protection processes with business operations. This is particularly useful for companies interested in data protection trust mark (DPTM) certification.
In the event of a data breach, we respond rapidly with our data breach response and recovery services.
For Data Protection Officer (DPO), we offer hand-holding guidance and change management strategy that is customized to your company needs. For companies which prefer to leave this to a professional, you can outsource Data Protection Officer (DPO) function to us at a fraction of the cost.
We are looking for a few good men and women.
Our team members and associates may come from diverse background but we all have these traits in common:
we are curious,  we will persevere,  and we learn fast.
For Data Privacy Protection practice – experience / certification as Data Protection Officer (DPO); certified trainers; knowledgeable in PDPA, GDPR, ISO27001.
For Data Science practice – Python and SQL programming are essential; knowledge in cloud computing (eg. AWS / GCP / Huawei Cloud) would be an advantage.
If you are an independent trainer or a budding data scientist looking for projects to add to your portfolio, come talk to us.
Send us an email at career@youngtech.sg
Contact us for a free consultation session on data privacy protection
Please drop us an email at: enquiry@youngtech.sg
Topics would include:
What are the difference between GDPR and PDPA?
What does it mean to my company?
How to comply with GDPR and PDPA?
I have been appointed DPO, now what?