GOOD NEWS! IAPP Certified Information Privacy Manager 
The new syllabus for IAPP CIPM and CIPP/E come into effect since September 2020.
We are now offering the new CIPM at a very competitive price through Temasek Polytechnic. (CIPP/E will be next up)
Date: 25 to 27 Jan 2021 (Monday to Wednesday)
Time: 09:00 – 18:00       Format: Classroom training
HERE COME THE BEST PART
The cost fee is only S$381.15 *
*After 90% subsidy by SSG for Singaporean age 40 or above
(Full cost fee is S$3,370.50 inclusive GST)
Register at Temasek Polytechnic website (course code: WJV)
or contact us at enquiry@youngtech.sg
We only do data protection. Because we are good at it.
The "How-to" course in PDPA
Practitioner Certificate in PDP Preparatory Course at Temasek Polytechnic and Republic Polytechnic
This course is enriched with latest actual data breach case studies and hands-on exercises on real life issues.
You will have continued access to the instructor and support group after the course in preparation for the certification examination.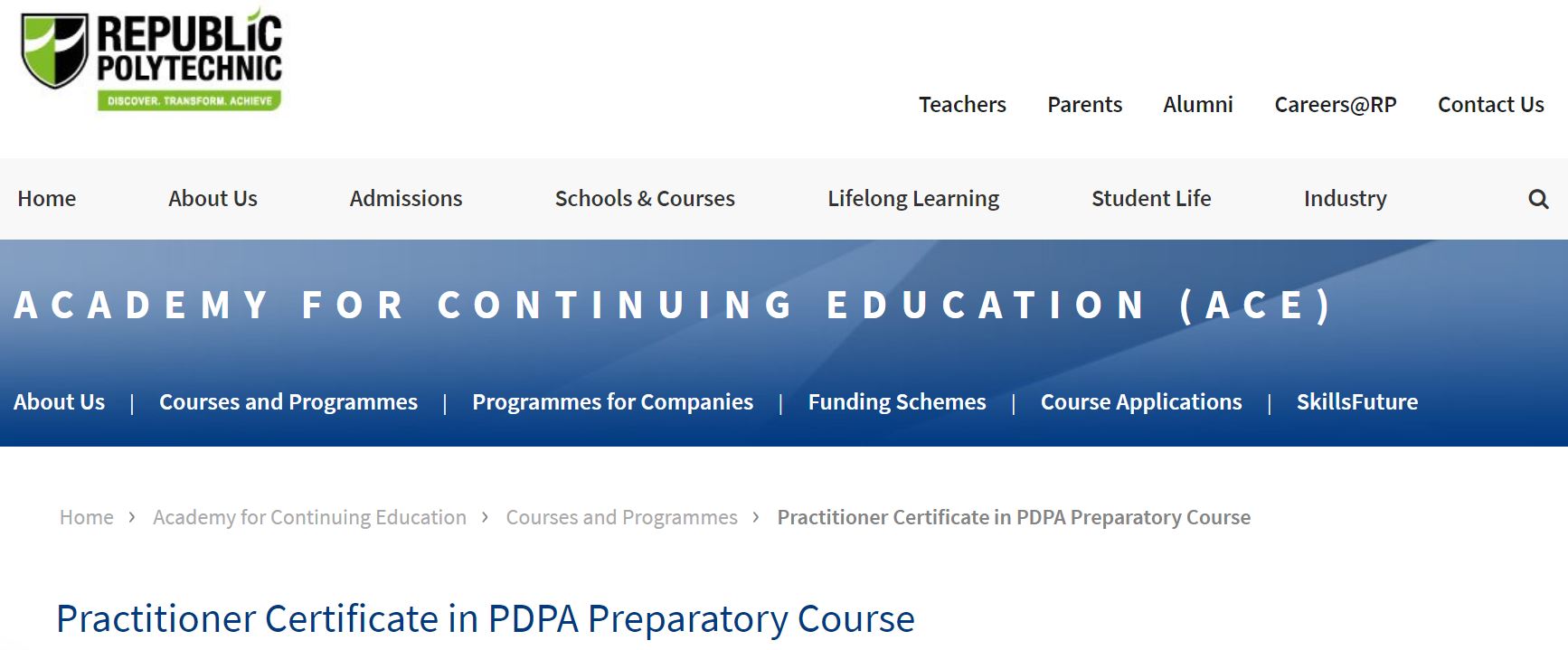 Workshop on PDPA and GDPR
Practical Workshop on PDPA 个人信息保护法令研习班
You will understand how good personal data protection management can help and has helped business to win customers and mitigate business risks.
One of the most valuable parts of the workshop is the practical guides on how to get started without spending money
Workshop on GDPR Compliance 
More and more companies have been asked by their clients, those MNC or European clients, to show that they are able to comply with GDPR.
If you are acquiring or keeping your international customers, you ought to know about GDPR.

GDPR and PDPA Consultancy

GDPR compliance assessment
DPTM (Data Protection Trust Mark) Preparation
DPMP (Data Protection Management Program)
Outsource DPO function
Regional DPO function
"How to work with your DPO
PbD – Privacy by Design
Official Training Partner of IAPP
Certified Information Privacy Manager (CIPM)
Certified Information Privacy Professional (CIPP)
Certified Information Privacy Technologist (CIPT)
Customised workshop and awareness program
eLearning and online assessment questions bank
Consent Registry
Data Inventory Map Tools
Dashbord for DP Compliance monitoring
Data Breach Prevention – Predictive AI
We help companies to protect their precious assets: REPUTATION and DATA.
We specialize in personal data privacy protection services.
Our team comprises experienced professional in diverse background, from Information Technology, Operations, Procurement, Outsourcing and Training.
We offer consultancy and training on data privacy regulations – such as European Union's General Data Protection Regulations (GDPR), Singapore's Personal Data Privacy Acts (PDPA), and China's Personal Information Security Specification (PISS).
We help businesses to implement a cost-effective data protection management system. Our unique approach emphasizes on integrating data protection processes with business operations. This is particularly useful for companies interested in data protection trust mark (DPTM) certification.
In the event of a data breach, we respond rapidly with our data breach response and recovery services.
For Data Protection Officer (DPO), we offer hand-holding guidance and change management strategy that is customized to your company needs. For companies which prefer to leave this to a professional, you can outsource Data Protection Officer (DPO) function to us at a fraction of the cost.
We are looking for a few good men and women.
Our team members and associates may come from diverse background but we all have these traits in common:
we are curious,  we will persevere,  and we learn fast.
For Data Privacy Protection practice – experience / certification as Data Protection Officer (DPO); certified trainers; knowledgeable in PDPA, GDPR, ISO27001.
For Data Science practice – Python and SQL programming are essential; knowledge in cloud computing (eg. AWS / GCP / Huawei Cloud) would be an advantage.
If you are an independent trainer or a budding data scientist looking for projects to add to your portfolio, come talk to us.
Send us an email at career@youngtech.sg
Contact us for a free consultation session on data privacy protection
Please drop us an email at: enquiry@youngtech.sg
Topics would include:
What are the difference between GDPR and PDPA?
What does it mean to my company?
How to comply with GDPR and PDPA?
I have been appointed DPO, now what?